Buying a property is regularly cited as being one of the most stressful things you can do and for good reason. There are a lot of moving parts, including finding the property in the first place. However, what you're probably not expecting is the process to grind to a halt because of slow conveyancing solicitors.
Conveyancing solicitors can be slow when helping you with your property purchase because the conveyancing process is quite complex and can often be slowed down by things going wrong, or delays by other third parties. However, making sure you are a priority is essential.
In this post, I'll explain why conveyancing solicitors are slow and critically, the ways you can help make the process move faster.
Why Do Conveyancing Solicitors Take So Long?
The conveyancing process can take anywhere between 4 to 12 weeks. When you've had an offer accepted, you quite rightly just want to get everything finished and move into your new home. However, knowing what can cause delays can help you proactively help speed up the process.
Delays by third parties. When you instruct solicitors, they need to request, review and report on documents received from third parties as well as ask questions if there are any issues or concerns. Any delays in getting a response can add time to the process. This includes documents such as the contract from your seller's solicitors and property searches.
Issues raised in the house survey that need investigating and reporting. Not only can there be delays in getting the documents to start with, there may also be issues that need investing further. This is an essential step to ensure you don't have any post-completion surprises and unexpected expenses.
Delays receiving information from buyers. Buyers taking a long time to respond to queries or signing certain documents can be a common reason for delays. This can be due to a lack of awareness that they're holding up the process or they haven't proactively got things in place beforehand. I've highlighted ways this can be avoided in the next section.
A complex situation that requires more time to review and ask questions. If you have a complex situation, such as if you're buying a leasehold property, a new build or problems with the property title, it can require more time to review and report on potential issues.
The workload of the conveyancing solicitor working on your case. Depending on the workload of the person working on your case, there could be delays in responding to queries or proactively chasing up third parties. Even a one day delay on each response or not pushing for information can add up to quite a significant delay in the overall process which I'll highlight what you can do about this later in the post.
Being part of a chain of buyers & sellers. Left this one until last as being part of a chain can increase the chance of delay because you can only move as fast as the slowest party and any of the above issues can impact the timeline for everyone. This is why being chain free can be viewed very highly when making an offer on a property as reduces the chance for delays.
Now you're aware of some of the issues that can make the conveyancing slow, the main question is what can be done about it.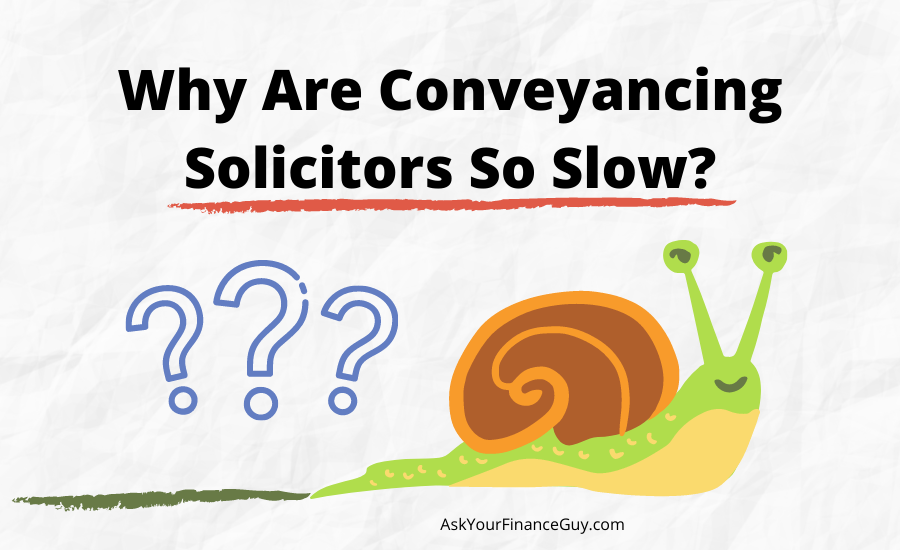 What Can You Do If Your Conveyancer Is Slow?
Ask for a weekly update. Some solicitors will do this as standard, however if you aren't getting a regular update, make sure to ask for one. When speaking to your solicitor, ask them about where they are in the process, and importantly, what the next steps are and whether you can be doing anything proactively now.
Respond to queries immediately. Possibly a straightforward one, however you'd be surprised how many buyers wait a few days in responding to their solicitors, possibly if they're not aware that they're now causing delays to the timeline.
Instruct your conveyancer to order property searches ASAP. These are necessary to find out information about the property such as local development plans, flood risks and mining locations. The government has a target to get this down to 10 days from request, however I've personally waited over a month for mine so the earlier these are requested the better.
Get your mortgage Agreement in Principle secured. This is done separately from your legal work and is either done by you personally or in conjunction with a mortgage advisor. This can take anywhere from a day to a few weeks depending on what paperwork is needed. This post I've written on questions to ask a mortgage advisor may be helpful.
Review buildings insurance companies in advance of exchanging contracts. Your mortgage lender will require that you have buildings insurance in place as part of getting a mortgage. This is so if anything catastrophic were to happen, such as your house falling over, you'd covered.
Choosing the right solicitor. If you feel that your conveyancing solicitor is too slow or you have lost confidence them, the first step is to tell them your concerns. This may help with prioritisation as no-one wants an unhappy client, however this also highlights the importance of how essential it is choosing the right solicitor in the first place that I'll explain below.
Why Choosing The Right Solicitor Is Essential
When buying a property, a lot of mortgage lenders will offer their in-house legal team, or legal firm they've partnered with, either for free or at a very low cost compared to going with an external legal firm. This is done by mortgage lenders to help entice you as a customer into choosing them by helping to lower your costs.
However, before you accept this gracious gift, make sure you know exactly what you're signing up for. In order for your mortgage lender to offer this service for free, or at a very low cost, the amount of time, effort and money that can be spent on each case is very low.
Conveyancing solicitors that are working for the legal team are often stretched to breaking point and given tons of property completions to manage at the same time. What this means for you as a customer is that you're often pushed to the bottom of the pile in terms of prioritisation, and your case is only touched if it's deemed absolutely essential.
Also to save costs, people with less conveyancing experience are often used to help with the process, such as recent graduates that are paid less than fully-qualified solicitors. However, with less experience they're less likely to be able to pro-actively move things along or spot potential delays, resulting in a longer completion.
These two factors combined together can result in some quite extensive delays, often not through the fault of the individual solicitor working on your case, but through a lack of time and experience of knowing what to do on your case.
This is why asking for regular updates is essential to ensure your case stays at the top of the prioritisation list and any information that is needed you'll be made aware of quickly. However, your other option is going with an external legal company, although is that worth the extra money?
Paying More For External Conveyancing Solicitor – Worth It?
Instructing an external legal firm to handle the conveyancing work can cost from £500 to £2,500+. However, the people working on your case are a lot more likely to have more experience and critically, have the time to spend on your case.
Having the time to spend on your case is essential as they'll be able to pro-actively chase various third parties as well as keep you in the loop on all activities. This can help reduce your stress levels as you know exactly what's happening and who needs to take the next action.
When trying to understand if paying more for a third party independent conveyancing solicitor is worth it, try and calculate what you'll lose out on if there were any delays.
For example, if you're in a chain and are worried that the buyers of your property might pull out, or the sellers of the property you're looking to buy might sell to someone else, the faster you can get everything completed at your end the better. Delays could put the entire property sale at risk.
Also, if you're currently in a rental property waiting to exchange, each month that goes by you'll lose out on the difference between the rent and the interest portion of your mortgage. This can be hundreds or even thousands per month.
Choosing the right solicitor from the start is obviously the best course of action, however, if you've already instructed a legal firm and are not happy with how slow they're being, should you switch solicitor?
Should You Switch Conveyancing Solicitor If You're Not Happy With Progress?
If you're not happy with the progress your conveyancing solicitor is making and are frustrated that they're slow, it's quite understandable that you're considering moving to a different firm. The earlier you move companies the better as gives the new firm the time needed to complete the process.
However, before you move firms make sure to make your feelings known with your current solicitor and highlight that if things don't improve you'll be escalating it further. If things don't improve and you're getting worried that their lack of speed and progress is going to jeopardise the sale or is going to cost you a lot of money, call the company and complain.
Your complaint may help ensure your case is given the priority that it needs, or someone else within the firm may be given your case that has more experience.
If you are thinking of moving conveyancing firms, here are some things to consider.
Your current legal firm may not release the documentation until they've been paid in full for their work
The earlier in the process you move conveyancing firms the better as it will be less complex and make the transiton easier
If you've already exchanged and have been given a completion date, changing firms at this point can cause even further delays and even incur financial penalties on your part, so seeking another solution will probably be best
Summary
Overall, understanding why conveyancing solicitors can be slow can allow you to proactively get ahead and help avoid any delays. It is key that you're working together with your conveyancing solicitor, so you're both aware of where you are in the process and whether anything can be done to
Hope this post has helped you speed up the conveyancing process. Enjoy your new property!
Hi, I'm John. I've always had a keen interest in Finance, so much so that I've made a career out of it! This site is a place where I can share everything I've learned as well as give me the excuse to research certain topics.
Check out my about page for more info.