Securing a mortgage for your home may well be the biggest financial commitment you ever have, so making sure you have the right financial product is crucial. When looking for a mortgage, a lot of people seek the help of a mortgage advisor that can explain all of the options available.
Usually, you only have a short amount of time with a mortgage advisor where they ask some standard questions and go away to come up with your options. Knowing what to ask a mortgage advisor can make sure you're getting asking the right questions as well as giving you some time to research the various options beforehand.
In this post, I'll take you through some of the key questions to ask your mortgage advisor and a quick background on each so you understand why each question is important.
What are your fees?
Knowing how much your mortgage advisor will charge at the start can avoid any unexpected surprises later down the line. A lot of mortgage advisors work on a set fee of around £500 on average, although there are also some that don't charge you anything.
The ones that don't charge you anything get their full fee from the lender for recommending you to their products. This can sometimes mean they have access to a limited amount of products, so make sure to check if they have access to the whole market when looking for your mortgage product.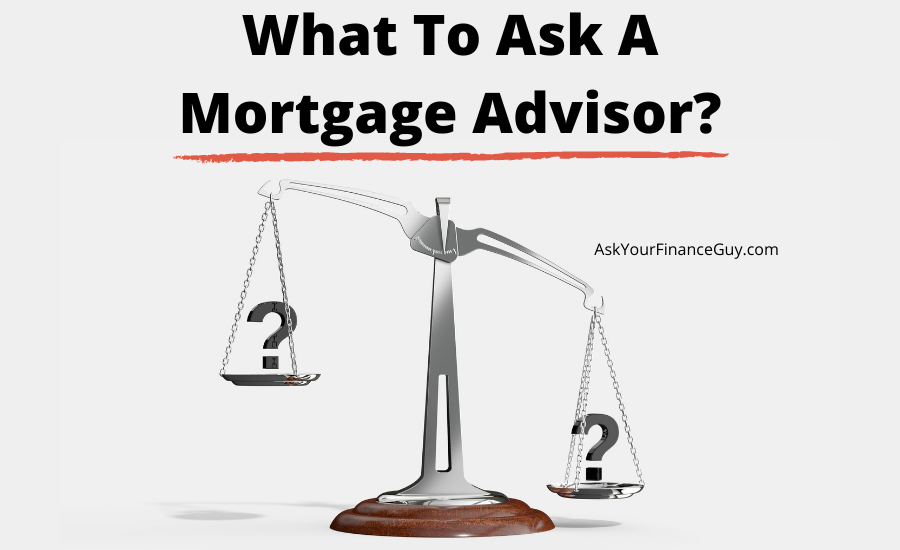 How much can I borrow?
Quite the key question and will determine what amount of money you can pay for your home. This figure can be impacted for a variety of reasons including the size of your deposit, credit score, type of mortgage, salary, spending habits, and more.
If the number isn't what you were expecting, ask your mortgage advisor to explain how you can increase the amount you can borrow. There may be some quick fixes, although others may take a bit of time to change.
What fees are payable to the lender?
When you take out a mortgage, the lender will usually charge a fee for arranging and completing the mortgage. One key question is to ask what will happen to the fee if the house sale falls through as this can happen for a variety of reasons and you don't want to be left out of pocket.
What deposit will I need?
When buying a property, the deposit you need will be linked to the total value of your house. You'll usually require a deposit of at least 5% of the total property price although in general the high the deposit the better mortgage products you'll have access to.
There is a ratio known as the loan-to-value ratio (LTV) which is effectively how much you need to borrow in a mortgage in relation to your home price. You'll see percentages such as 90% LTV and this means you need a 10% deposit.
If you're close to a 5% increment, such as having a 9% deposit, it may be worth asking the mortgage advisor if this will make a difference if you were to increase it to 10%. A few extra thousand upfront can save you thousands if you can secure a better mortgage more possibly with lower fees or a lower interest rate.
What type of mortgage will work best for me?
The best type of mortgage will depend on your personal circumstances. Below I'll run through some of the most common types of mortgages so you have a general overview.
| | |
| --- | --- |
| Mortgage Types | Description |
| Fixed-rate | With this product, the interest rate is fixed for a certain period of time then moves onto a variable rate which can be a lot higher than the initial fixed rate. There can be early redemption charges if you want to stop the mortgage within the fixed term, such as if you want to buy another property. This post I've written may be helpful that runs through how long you should fix your mortgage. |
| Variable-rate | Also known as a Standard Variable Rate (SVR) mortgage, this product aligns the interest rates based on the current market so can fluctuate. |
| Discounted rate | This product is similar to the Standard Variable Rate mortgage, although the lender will offer a discounted rate at the start. |
| Capped rate | This product is similar to the Standard Variable Rate mortgage, although there is a maximum cap on the interest rate that can be charged. If you're thinking the interest rate |
| Tracker | The interest rate on this product tracks a specific rate, such as the Bank of England base rate. If that moves, then your interest rate moves as well. This product is usually marketed as 1% over base rate or something similar. |
| Offset | This product can be a fixed or variable interest rate, although you are also given a savings account where any money deposited in that account will be offset against the total balance so you effectively don't pay any interest on it. This product can be very helpful for those people with ad-hoc earnings such as contractors or self-employed people where you can benefit from reducing your mortgage payments but can also dip into the savings account to cover the mortgage payments if you have a gap in work. |
| Cashback | As an incentive to take out a mortgage, some lenders offer cashback from 1%-5% of the loan amount. There is usually a minimum period where you'll need to pay all or some of the money back if you were to cancel your mortgage. |
| Professional | If you're in a specific profession and are newly qualified you may be eligible for a professional mortgage. These products anticipate that you're likely to earn more money over the next few years so usually allow you to borrow more money as a multiple of your salary. |
| Flexible | This mortgage product allows you to overpay or underpay your mortgage based on your circumstances without underpayments counting as a missed payment. Similar to offset mortgages can be useful for people wanting to overpay or if they have potential gaps in work. |
| Repayment | Most mortgages fall into this category and are where you also pay down the capital you've borrowed as part of your mortgage payment. This means over the term you slowly pay down the total balance you borrowed. |
| Interest-only | Opposite to the repayment mortgage above, and these are where you only pay |
How much will my monthly repayments be?
Knowing how much your monthly mortgage payment will be is essential to help you gauge how affordable they will be. Also, make sure to ask how much the mortgage payments will be after any initial discounts or fixed periods.
At this point, you will usually try and secure a new product to effectively extend the discounted period, and usually pay another set of fees, unfortunately. However, if the worst were to happen and you were stuck on the higher rate, make sure you're aware of what your mortgage payment will be.
What interest rate choices are available?
Getting the mortgage advisor to take you through all the interest rate choices available can help you decide between products. Depending on your persoanl circumstances you may prefer having the lowest interest rate possible at the start knowing you're going to remortgage, going for a longer fixed period or even wanting a longer term to lower your monthly repayments but at a slightly higher interest rate. There are lots of options so make sure know what's available.
This links in with the monthly repayments as any changes on interest rate will affect your monthly repayment.
What are the early repayment charges?
Some mortgages have early repayment charges if you were to cancel the mortgage within an initial period of time. These are usually if you in place if you take out a discounted-rate, fixed-rate, or cashback mortgage, however, can apply to any product so make sure you know what you're signing up for.
These charges can be quite high, for example, if you take out a 5 year fixed rate mortgage and repay the full mortgage amount within the first year, effectively canceling the product, it's not uncommon to have charges of around 3% of the total loan value. This can add up to some quite eye-watering figures especially when you add in the fees already taken out to secure the mortgage in the first place.
Can I overpay the mortgage?
Some people like to overpay their mortgage which is definitely understandable. However, some lenders apply charges if you want to overpay, or restrict the maximum overpayment each yet, usually to 10% of the outstanding capital balance.
What documents are needed?
To help with the processing of your application and ensure you don't cause any delays, make sure you ask what documents will be needed so you prepare them ahead of time.
Summary
Overall, there are many questions you could ask your mortgage advisor, and the more knowledge you have about the various different options the better equipped you'll be to make sure you get the right product.
If you're just getting started looking for a new home, this post I've written on how many times your salary for a mortgage may be useful if you're trying to work out your general budget for a new home. Happy home hunting!
Hi, I'm John. I've always had a keen interest in Finance, so much so that I've made a career out of it! This site is a place where I can share everything I've learned as well as give me the excuse to research certain topics.
Check out my about page for more info.