Even though the risk of your house being destroyed can be minimal, knowing what will happen can be essential to help you plan for the worst, especially understanding what will happen to possibly your largest expense, the mortgage.
Nothing happens to your mortgage if your house is destroyed and you need to keep paying, even if there's nothing left of your property. This is because you still owe money to the mortgage lender which needs to be repaid which highlights just how important home insurance is.
It doesn't matter if your home was destroyed by fire, flooding, hurricane, tornado, or even if a tree fell on it, you still have a financial obligation to your mortgage lender and walking away is the same as walking away from a mortgage on a property that's isn't destroyed.
In this post, I'll run through what happens to your mortgage if your house is destroyed, what happens if you stop paying your mortgage and how home insurance is critical to protect you if the worst does happen.
Do You Have to Pay Your Mortgage After Your Home Is Destroyed?
Yes, you still have to pay your mortgage after your home is destroyed. If you don't you may incur late payment fees, negatively impact your credit score or risk the mortgage lender pushing for foreclosure. Home insurance can help cover the costs of the damage and even temporary accommodation.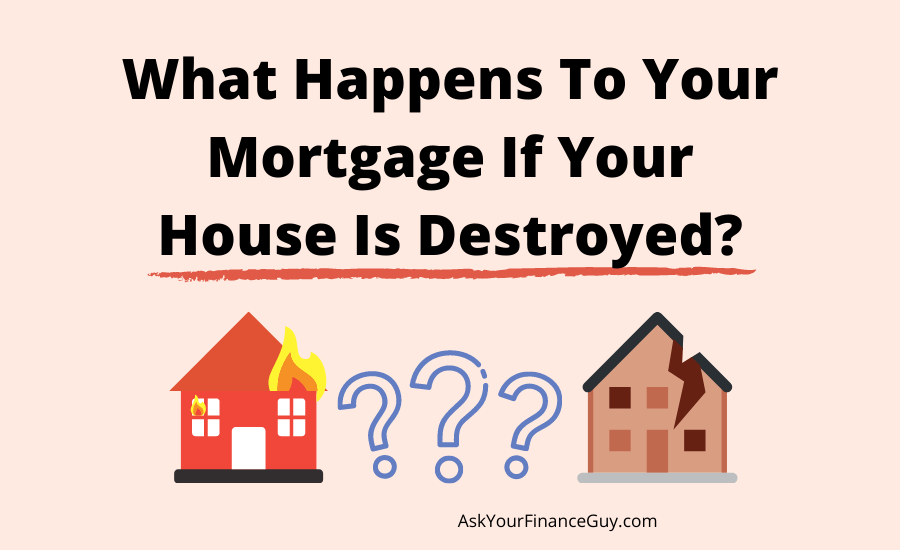 This is why mortgage lenders require that you have homeowners insurance in place so you are protected, but also they are financially protected as if you were to walk away, they could be at risk of losing money. This is especially the case if the property is destroyed as the resale value will be significantly less than the original sale price.
What Happens If You Stop Paying Your Mortgage?
If you stop paying your mortgage it can lead to many negative repercussions, from late payment fees to the lender seizing back the property. This is still the case if your property has been destroyed, as you still owe the mortgage lender the money you borrowed even if you don't have insurance in place.
Late payment fees. Most mortgage lenders offer up to a 15 day grace period after which they will class your mortgage payment as late and issue late payment charges which can be between 3% to 6% of your monthly mortgage payment.
Getting a negative impact on your credit score. If you do miss a mortgage payment, as well as late fees, the mortgage lender will also report your missed payment to the credit bureaus. This will have a negative impact on your credit score, however, the extent of the impact will depend on how creditworthy you were before the issues.
Risk of foreclosure. If you don't pay your mortgage for months, your mortgage lender may start foreclosure proceedings to try and recover their investment by seizing back control of your property and selling it. I've written a more in-depth post about how long you can not pay your mortgage before foreclosure that you may find useful. If you believe you're at risk of not being able to pay your mortgage, the best thing to do is contact your mortgage lender as they may be able to offer options to help.
Difficulty securing a new mortgage. Getting negative impacts on your credit score, which can be quite significant if your lender forecloses on your property and you default on your loan, can make getting a new mortgage very difficult. Mortgage lenders assess the level of risk that you are as a borrower and if they can see that in the past you have defaulted on a mortgage they will class you as very high risk and may not even be willing to offer you a mortgage.
Do You Have To Have Buildings Insurance With A Mortgage?
Yes, most mortgage lenders require that you have buildings insurance in place when you take out a mortgage to cover the cost of rebuilding your home if it's damaged or destroyed. Home insurance can cover different things from flooding to earthquakes or even if your house burns down.
Whilst setting up a home insurance product can seem like the worst way to spend 10 minutes of your time and what can seem like an unnecessary expense, it can be essential following a catastrophe. Depending on the extent of the damage the money from an insurance claim can be a critical lifeline to get your life back on track.
Steps To Protect You Financially If Your Home Is Destroyed
Having your home destroyed by a storm, flood, fire or anything else can be one of the most horrific things that can happen. This is why making so you take appropriate steps in advance can ensure you are protected financially if your home is destroyed.
Getting home insurance. Home insurance is the critical element that can cover you in the event of a disaster and avoid you having to pay for the damages yourself. This can sometimes be a cost that a lot of people despise paying, and sometimes think they can cut back on, however, if you do end up needing it, it can be a critical lifeline.
Keeping receipts of purchases. Keeping a record of the purchases you have made can be essential to prove you owned items prior to the disaster. This will most likely be stated in your home insurance documentation, although can quite easily be overlooked or forgotten about. Thankfully credit cards and electronic receipts can sometimes be savours here, however, taking pictures of the receipts of big-ticket items can also be very useful.
Build up an emergency fund. If the worst does happen and your home is destroyed, having savings that you can use in an emergency can help you get through the nightmare. This can be used to pay for everything from food, alternative accommodation or even buying new items to replace items possibly not covered in your home insurance package. To build an emergency fund, you just need to set aside a small amount of money into savings each month that can add up over time.
Creating a monthly budget for expenses. Knowing where your money goes each month can be very useful when your world gets turned upside down. You'll know where you can cut back if needed and how long any money you have available will last, including your emergency fund (if you have one).
Best Place To Get Home Insurance
There are many places to get home insurance, including going directly to one of the many home insurance providers or using a price comparison site. In my opinion, the best place to get home insurance is through a price comparison site as takes the hassle away from comparing quotes and deals.
As the application process takes about 10 minutes, even comparing 3 companies can take over half an hour, and that doesn't include finding the companies in the first place. This is where price comparison sites can do the heavy lifting which means you only have to do the application process once and compare tens, or even hundreds of different companies.
Also if you want to change any details, such as decreasing your excess charge, you only need to do that once and then re-run the quotes from the price comparison site dashboard, quite handy. Below I've listed a few of the top price comparison sites to help get you started.
MoneySupermarket
Confused.com
Compare The Market
Also, remember to use a cashback site like TopCashBack as they have very good payout rates for home insurance products and you can save over 50% on your first year depending on the product you choose.
How Long After Getting Home Insurance Can You Claim?
You can make a claim straight after your home insurance policy is in place. However, if it's less than 24 hours this may raise red flags and the insurance company will most likely conduct an investigation to make sure your policy was in place before the disaster.
You cannot apply for insurance retrospectively and if the damage has already happened and you get a new policy and make a claim, this can be treated as insurance fraud. This can lead to fines and possible jail time.
This is why it's best to make sure you have your home insurance in place as soon as possible so if the worst were to happen you know that you're covered.
Summary
Overall, nothing happens to your mortgage if your home is destroyed and you need to keep paying your monthly payments regardless of whether it's in a condition where you can live in it or not. This is why most mortgage lenders require you have building insurance to pay for any major damage.
If you are a homeowner, having home insurance can be critical to cover you financially. However, remember that not all home insurance is the same and there are different policies to protect you from different scenarios.
If you are looking at this post to understand what could happen if the event that your house is destroyed, then I hope it has been helpful and shows how critical home insurance can be. If your home has been destroyed, I hope you manage to get everything back on track and you haven't been hurt in the disaster.
Hi, I'm John. I've always had a keen interest in Finance, so much so that I've made a career out of it! This site is a place where I can share everything I've learned as well as give me the excuse to research certain topics.
Check out my about page for more info.