Buying a house is regularly cited as one of the most stressful things you can do, including finding a property in the first place and making an offer. Knowing whether you need a mortgage agreement in principle (AIP) in place or whether you can make an offer without one is key.
No, you don't need a mortgage in principle to make an offer on a property. However, it can help add credibility to your offer as shows you have funding in place and that you've been validated by a mortgage lender which can be viewed highly by a seller.
In this post, I'll explain why it's best to have a mortgage in principle in place before you make an offer, or even start viewing properties, as well as ways to avoid it being declined.
What is a Mortgage in Principle?
A mortgage in principle is a high-level estimate from a mortgage lender of the amount they'd be willing to let you borrow based on reviewing their headline lending criteria. The lender will then conduct a more in-depth search to make their final offer when you purchase a property.
Sometimes called an Agreement in Principle (AIP), Decision in Principle (DIP) or mortgage promise, they are normally valid for between 30 and 90 days with some being valid for up to 6 months.
Benefits of Getting A Mortgage In Principle Before Making An Offer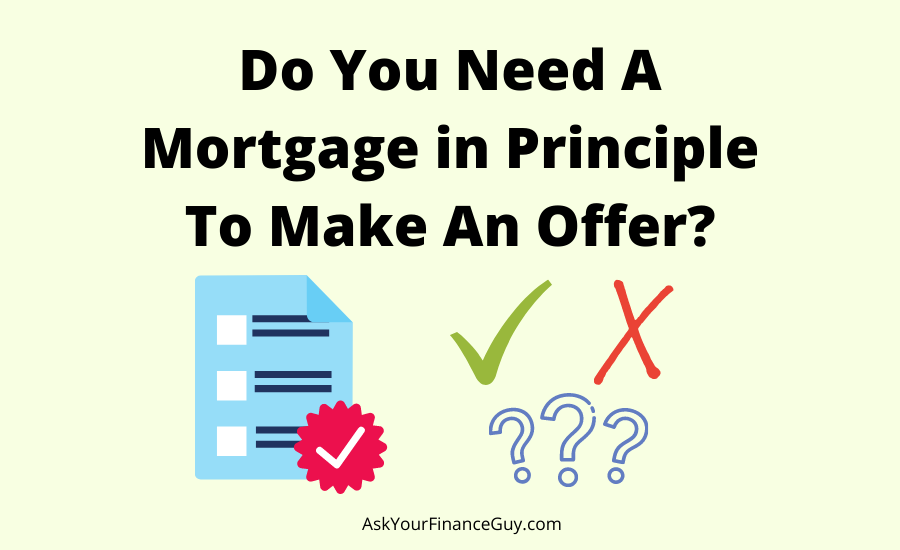 The main benefit of getting a mortgage in principle before making an offer is that you can be more certain you are able to borrow the money needed to support your offer. It can also help avoid and rectify any potential issues and add credibility to your offer.
Adds credibility to your offer. As a seller, if you have two competing offers that are the same value and one of them comes with a valid mortgage in principle, it gives additional confidence that they are able to come up with the money. Also already having an offer means that they could complete the process faster to help avoid any delays.
Help avoid the purchase falling through. Buying a property can be very emotional as you can find a property you absolutely adore. To have that fall through due to not being properly prepared can be a disaster, so making sure you prepare in advance, including getting a mortgage in principle, can help avoid any unexpected surprised.
Have time to fix any issues. If you wait until you're about to make an offer or even about to make the final purchase before you try and secure a mortgage you may uncover issues that prevent you from securing a mortgage. This can be anything from bad credit to difficulties with validating your income, however, the more time you have to fix the problems the less of an issue or surprise it will be.
Helps you understand your budget. This can help you avoid wasting time viewing the wrong properties. For example, if you think your budget is £300,000 so start looking for properties within this price range, although once your Mortgage in Principle is completed and you find out your budget is actually £350,000 you've probably dismissed a few houses that you may have been able to afford to start your search again.
Peace of mind. If you have a complex situation, such as bad credit or are self-employed with a number of sources of income, getting a mortgage in principle can help give you the peace of mind that you're able to secure a mortgage once you make an offer.
Do You Need A Mortgage in Principle to View A House?
No, you don't need a mortgage in principle to view a house. However, as it's a good idea to have one in place when submitting your offer if you think there could be a chance you may want to purchase the property, getting one in advance of any viewings will avoid any last-minute rushing.
As competition for properties is rapidly increasing, especially in some very desirable areas, some estate agents are wanting to know that you have a mortgage in principle in place before a viewing.
Just know that it isn't a legal requirement to have one in place to view a property or even make an offer, however, can help the credibility of your offer and also keep the estate agent on your side.
In my view, it's just a way that estate agents can be lazy as is an easy way to shortlist potential buyers and save time by doing fewer viewings. However, I'll let you make up your own view ha!
Why Would A Mortgage Be Declined After AIP?
Just because you have a mortgage agreement in principle (AIP) doesn't mean you're guaranteed to secure a mortgage. Once the lender does a more thorough check before making a full mortgage offer they can find issues such as bad credit or validating your income sources leading to rejection.
Fail the final credit check. To get an agreement in principle the mortgage lender typically performs a soft credit search to get some high-level information however they're restricted to what they can access. For a full mortgage offer, they perform a hard credit search which gives them all of the information. This could uncover some bad credit that wasn't detected during the initial AIP.
Your circumstances have changed. It can be up to 6 months from making your initial request for a mortgage in principle to requesting a full mortgage offer and a lot can change in that time. You may have lost your job, missed a number of debt payments, or a number of other things that can impact your eligibility.
An issue with validating your income. Depending on your mortgage lender, they may issue a mortgage in principle with minimal validation of your income sources. When reviewing your income in more detail they may find something such as fluctuations or bonuses they may not want to count within your income. Making your mortgage lender fully aware of any complexities upfront can help avoid any issues later down the line.
The lender has changed its lending criteria. Mortgage lenders change their lending criteria all the time, especially now that they're more heavily based on algorithms where minor changes can be implemented immediately. If you
Errors on the application. A simple error can raise a red flag which can cause your application to be denied. This can be something you've said or even a simple human error that can be the cause which is why it's always best to fully understand why your application was denied before you try and secure a new one to avoid it happening again.
What To Do If Your Mortgage Offer Is Declined
If your mortgage offer is declined, don't reapply without understanding the issue that caused the rejection as the next application could be declined for the same reason and risk impacting your credit score further. Getting help from a mortgage advisor to help understand your options will be best.
Having your mortgage offer declined is understandably worrying, however just know that you're not alone and this happens to a lot of people. It is key to make sure you don't end up in a downward spiral and could just be down to an error on your application that can be easily rectified. This post I've written about how a mortgage application affects your credit score may be useful to understand further.
Depending on why your mortgage is declined, you may have to look for an alternative lender or mortgage product that is more aligned with your circumstances. For example, if you have bad credit, there are mortgage lenders and products specifically tailored to this situation.
How Accurate Is A Mortgage Agreement in Principle?
A mortgage in principle is fairly accurate compared to your final mortgage offer. However, it all depends on whether the initial details you gave to your mortgage lender were accurate, or if your circumstances have changed such as your credit score, income levels and spending habits.
If your circumstances have materially changed, it may be worth requesting an updated mortgage in principle to account for those changes so you're not left disappointed and potentially have to pull out of buying a property. Your mortgage broker will be able to offer you advice on whether the changes may impact your eligibility as a borrower.
Everything is subject to change up until your receive your final mortgage offer and some things that are even out of your control can affect the amount you're able to borrow, such as the mortgage ender changing their criteria.
Summary – So Do You Need A Mortgage in Principle To Make An Offer?
Overall, you can put an offer on a house without a mortgage in principle. However, getting a mortgage in principle in place beforehand can have a number of benefits including helping your credibility as a buyer and making sure you're looking for properties with the right budget.
In order to get a mortgage in principle, you can either get one yourself or seek the help of a mortgage advisor. Depending on how complex your situation is, for example, if you have bad credit, are a first-time buyer or are self-employed, getting a mortgage advisor can help as they can take you through all of your options.
If you're thinking about using a mortgage advisor, this post I've written about what questions to ask a mortgage advisor may be useful.
Good luck with your property purchase!
Hi, I'm John. I've always had a keen interest in Finance, so much so that I've made a career out of it! This site is a place where I can share everything I've learned as well as give me the excuse to research certain topics.
Check out my about page for more info.