A buy for uni mortgage can help university students make the most of their situation and buy a property to live in during their studies. This can be a great alternative to leasing a potentially sub-standard property from a student landlord.
However, knowing whether this product is right for you can be a challenge, especially if you're a parent wondering whether it's the right choice for your child. This is why in this post I'll run through the benefits and risks as well as important things to consider to help you make a more informed decision.
What Is A Buy For Uni Mortgage?
A buy for uni mortgage is where instead of leasing a property and paying rent to a landlord, the student can buy the property themselves and rent rooms to their housemates. This helps them cover the monthly mortgage payments and even earn money in the process.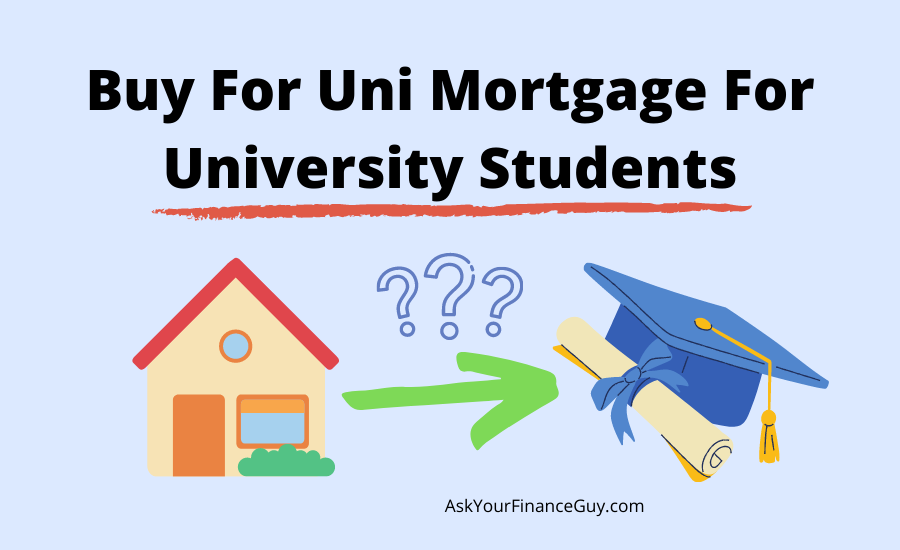 How Do Buy For Uni Mortgages Work?
These mortgage products offer a way for students to get on the property ladder whilst at university where they ordinarily would not be able to qualify for a regular mortgage due to not having any income to afford the monthly mortgage payments.
Here are the common requirements:
Must have at least one full academic year remaining of their university studies
The property must be within 10 miles of the university and have a maximum of three bedrooms
Have a maximum of three occupants (the student and two flatmates)
The other flatmates don't have to be students but must be granted an Assured Shorthold Tenancy agreement
Which Mortgage Lenders Offer a Buy For Uni Mortgage?
Several different mortgage lenders offer these types of mortgages with more entering the market, below I'll list a few.
Bath Building Society
Loughborough Building Society
Vernon Building Society
These mortgage lenders offer up to 100% mortgages which means that no deposit is required with the interest rates ranging from 3.95% to 4.5% for the initial interest rate.
It's worth highlighting that these interest rates are quite high compared to buy-to-let mortgages. However, the trade-off is that they require a significantly lower deposit and are open to students that due to their lack of income can find getting a different mortgage product very difficult.
Benefits of a Buy For Uni Mortgage
Reduction in deposit requirements for securing a mortgage. Most buy-to-let mortgages require a deposit of at least 25% which can be difficult to get, especially as a student with no income. However, a buy for uni mortgage can offer up to 100% of the property's value in the mortgage, so you don't need a deposit.
Reducing the costs of living at university. Depending on the value of the property and the interest rate you can get on the mortgage, the overall cost of living compared to renting a property may be lower. Once you factor in the earnings from the rent you'll receive, plus the amount you're paying down the principal each month, you may even be paid to live in the property which is an exciting prospect.
Avoid leasing a poor property from a different landlord. By buying your property, you're in control of everything, so if you want a new TV, done, the heating not working, fixed. Whilst you'll have to cover these costs, as long as you factor them into your plan at the start it can make your university experience much more comfortable.
Potential for capital growth. A lot of universities are situated in densely populated regions that have seen good property price increases over time. Buying a property instead of renting it from a landlord means you can benefit from any property price increases.
Risks and Considerations of a Buy For Uni Mortgage
Losing first-time buyer status. This one is often forgotten about, however, if you buy a property you are no longer a first-time buyer. That means you are no longer able to use a Lifetime ISA towards property or benefit from the stamp duty reduction on your next property.
Risk not being able to pay the monthly mortgage payment. As you are responsible for the mortgage payments each month, there is a risk that something goes wrong with collecting the payments from your housemates, which are effectively your tenants. Even if they don't pay you, you'll still be expected to pay your mortgage lender, so make sure you choose your housemates wisely.
Planning for When You Leave University. When you leave university you don't have to sell the property, you can continue renting it out to new students. However, make sure you have a plan in place to avoid any unexpected costs. This can include hiring a property management company, renovations or even the time involved in having to manage the property.
Buying subsequent houses after university is treated as a second home. If you want to continue renting out the property after you leave university as an investment property, the next property you buy will be treated as a second home. This will incur a higher rate of stamp duty, although with student accommodation often being quite lucrative, your additional income may be worth this additional cost.
Upfront costs to consider. Even though you may be able to secure a mortgage without a deposit, there are other upfront costs to consider such as any renovations that need to take place before you move into the property or any stamp duty that becomes due. Although remember that as a first-time buyer you get the first £300,000 of your property free from stamp duty.
Buy For Uni vs Buy To Let Mortgage. Depending on your situation one product may be better than the other, so it's best to keep both in mind. You may also decide to switch products after you leave the university if you've managed to build up a bigger deposit.
Can Students Get A 100% Mortgage?
Yes, a buy for uni mortgage can be a way that students can get a 100% mortgage. Using this product several lenders will allow students that meet certain requirements to get a mortgage with no deposit upfront.
However, there will still be upfront costs to consider such as paying any stamp duty, although if the student is a first-time buyer they may be able to benefit from the first-time buyer's allowance. This is where the first £300,000 of the cost of a property does not incur any stamp duty charges.
Depending on the property, there may also be renovation costs to consider which can require some upfront investment. However, considering the state of many student properties and accommodation, it may not require much investment to surpass the alternative of leasing a property from a different landlord.
Excellent Way To Start Being A Property Investor
If you want to start being a property investor, getting the first property is always the hardest as it can be a steep learning curve. However, a buy for uni mortgage can be an excellent way to start as you're effectively being a live-in landlord, which depending on the area can be very lucrative.
If you have any questions about the process or understanding whether it's the right option for you, definitely speak to a mortgage advisor. They will be able to review your circumstances and help take you through all of your options, including whether a buy-to-let mortgage could be a better choice.
Summary
Overall, these mortgages can be an excellent way to get onto the property ladder as a student, earn money whilst at university as well as be in charge of your living arrangements.
If you already have a mortgage, this post I've written about going to university with a mortgage may be useful.
I hope this post has given you some good points to think about and good luck in your studies!
Hi, I'm John. I've always had a keen interest in Finance, so much so that I've made a career out of it! This site is a place where I can share everything I've learned as well as give me the excuse to research certain topics.
Check out my about page for more info.