Launched in 2015, Octopus Energy has rapidly grown and now serves energy to over 1.4 million homes. They're committed to 'fair and transparent' pricing by making their services as simple to understand as possible, which is excellent news compared to some providers.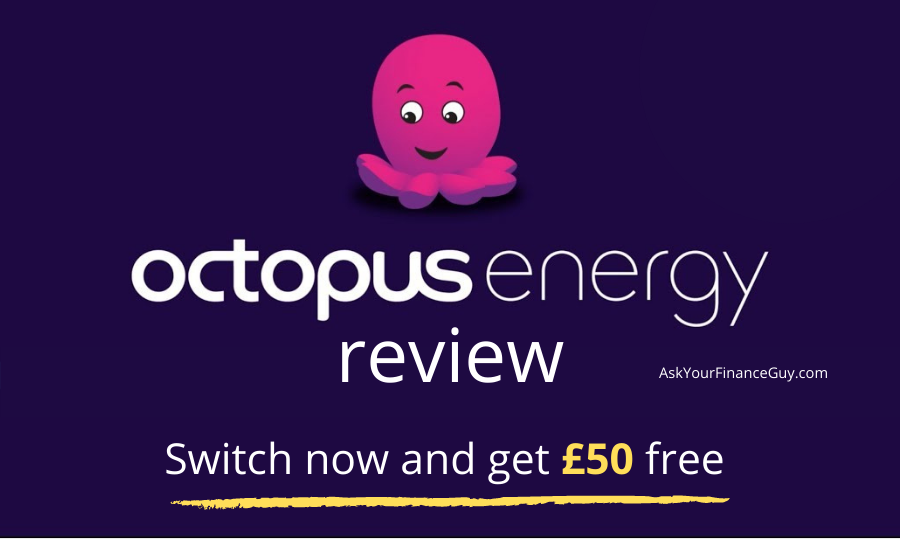 This Octopus Energy review focuses on the different tariffs, how they stack up against alternative suppliers and how they are able to deliver energy at such cheap rates. First we'll go through the various tariffs, with the Standard tariffs being focusing on those people with regular consumption habits, then Innovative tariffs aimed at those with high usage or can restrict their usage to specific times of the day.
There's also a free £50 referral bonus for those that switch their energy to Octopus Energy for a limited time, so if you're interested click here to get started and get a quote.
Standard Tariffs
With a short selection of tariffs, it makes selecting and understanding which option you need a lot easier. They currently have 3 standard options which all include 100% renewable electricity.
Super Green Octopus
All electricity is 100% matched by renewable sources and gas is fully carbon offset through their partner Renewable World. No Exit Fees.
Octopus 12 Month Fixed
As the name indicates, this fixes your energy prices for 12 months and it is usually the cheapest option as helps Octopus in the background account for energy price fluctuations. No exit fees.
Flexible Octopus
Similar price to the 12 month fixed, with this flexible option your price can chance within 30 days notice depending on wholesale prices. No exit fees.
Innovative Tariffs
With their claims to be 'doing energy better', on top of aiming to provide the cheapest and best service, they're also leading in innovation by offering new tariffs to meet the growing needs of the market.
Agile Octopus
This tariff gives you the ability to access half-hourly energy prices. This means that if you can move your main energy usage outside of peak times, usually 4pm – 7pm, you can be rewarded for it with cheaper prices.
This is particularly useful for those with electric vehicles or smart devices that can turn on at specific times like dishwashers and storage heaters. You'll also get a daily update to your annual energy forecast so you can actively manage your consumption to make sure you're being efficient and saving costs.
Octopus Tracker
This tariff allows you to track the current wholesale energy prices in the market daily and includes a lot of in-depth analysis to see where your money is going. You'll also get daily updates to your 12-month energy forecast, so can help you actively reduce your costs.
Octopus Go
This smart energy tariff focuses on those that can align their energy usage between 00:30 – 04:30 where you can get rates of only 5p/kWh. This means those with an electric vehicle can keep their fuel costs at around 1p per mile which can deliver huge savings.
Exit Fees
Another great plus of Octopus Energy is the fact that they have no exit fees. This means you're free to switch away whenever you choose. Currently, they have some of the cheapest prices on the market so you're more than likely not going to want to switch away anyway.
However, I think this is a great way to keep them focused on delivering the best possible service, as they know they can lose you as a customer at any time. This is compared to other companies that try and lock you in for multiple years, which then means they have minimal incentive to provide a good service or the cheapest price as you can't leave.
Octopus Energy Smart Meter
If you already have a smart meter, then that's great news as you'll be able to access all of the different tariffs based on your needs. However, if you don't, not to worry as you'll be able to have an Octopus Energy Secure smart meter installation for free.
Most properties have the ability to use a smart meter, although there are some exceptions, mainly around having a reliable internet connection. If you have any queries or want to check if you're able to have one, just contact Octopus support and they'll be able to advise.
Is Octopus energy reliable?
Being a Which Recommended Provider for energy 3 years in a row should give you some level of confidence that they're very reliable. In order to secure the top place against 35 other energy companies, they needed to excel in a number of categories, including customer waiting times for support, prices and the number of complaints.
Comparison & Alternatives
The Which Recommended Provider analysis is also an excellent tool to compare different energy providers. As Octopus Energy came out on top it shows they're the best in the highest number of categories, however, it was also highlighted that other providers, Bulb and Ebico came close.
If you want to switch across to Octopus Energy, click here.
Alternatively, if you want to make sure you're getting the cheapest rate, make sure to read this post on the cheapest UK energy suppliers to know how to find the best deal.
Customer Reviews
With almost 40,000 5 start customer reviews on Trustpilot, you can tell they're passionate about putting the customer first.
How is Octopus Energy so Cheap?
This is a common question that keeps coming up and it's in part to their constant innovation and looking for ways that certain customers can save money. We've already been through their multitude of different tariffs and as you can see, if you're able to consume energy at off-peak times, Octopus give you the tools to enable you to buy energy are insanely cheap prices.
However, they are also very cheap for the average customer too, so how does that work?
They have focused on using technology to create a very lean business focuses on keeping customers happy and prices low. This is done by automating many of the tasks behind the scenes that many of the older companies need a lot of people to manage, meaning they can pass on the savings to you and makes for a more efficient service.
Where they haven't cut costs is customer service which is shown by their UK-based support function answering any of your emails and calls, where they have average call wait times under a minute. Definitely understandable how they're growing fast!
Acquisitions and Partnerships – Co-op Energy, M&S Energy and Iresa
Another reason Octopus Energy is able to offer such fantastically low prices is because of their size. In 2018, M&S Energy partnered with Octopus to focus on leading the way with technology and customer server in the energy market. Also in 2018, Ofgem announced the small supplier Iresa had gone out of business and all the 100,000 former Iresa customers transferred to Octopus Energy. In 2019 they acquired the Co-op Energy Group which included the Co-op Energy, Flow Energy and GB Energy brands and their 300,000 customers.
This in addition to their organic growth has lead to them service over 1.4 million customers, giving them immense buying power in the energy market, meaning access to cheaper prices which they can pass on to their customers.
Auto-Switching Service
If you don't want the hassle of switching and continuously looking for the cheapest provider, then an auto-switching service may be what you're looking for. Look After My Bills offers a service where they manage your energy suppliers for free
If this sounds good, read the Look After My Bills review here to find out more.
Hi, I'm John. I've always had a keen interest in Finance, so much so that I've made a career out of it! This site is a place where I can share everything I've learned as well as give me the excuse to research certain topics.
Check out my about page for more info.